A Football Player Starts A Debate
Responsible Author: Rebel Miles Photography | Charlevoix, 09/21/2016, 11:59 Time
Rebel Miles Photography -
An America professional football player decided to sit during the National Anthem and has created a firestorm of reactions. Colin Kaepernick Of The San Francisco 49ers refused to stand in an effort to focus attention on racial injustice in the United States.
When will the home brew excitment fade?
Responsible Author: Rebel Miles Photography | Charlevoix, 09/17/2016, 11:44 Time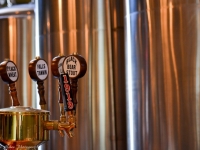 Rebel Miles Photography -
Even to a relatively disinterested person it seems as though a new micro brewery opens every week on virtually any size scrap of available property. What was once a novelty has quickly become a multi million dollar tax boon for the state and many new jobs even in very remote areas.
| | |
| --- | --- |
| | Daren Frankish |
| | RAHMA-SOPHIA RACHDI |
| | Ruby BIRD |
| | Yasmina BEDDOU |
| | Aurangzeb Akbar |